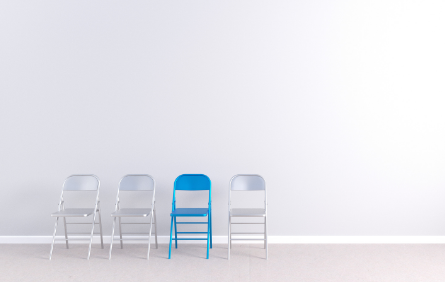 Looking to Hire ?

Let me help you & benefit from the largest network of Tax & Legal Talents in Belgium, to quickly hire the perfect Talent you are looking for !
The current shortage on the labour market will remain strong. Filling vacancies with the right Talent in today's competitive & complex market therefore requires a specialist having an extensive knowledge of the field & a wide existing network.

Forget about reactive recruiting. You won't attract the best Talents by just posting a vacancy & waiting for Candidates to apply… one day.
Optimize your recruitment strategy with my proactive direct search approach.

Benefit from the current largest network of more than 20.000 Tax & Legal Talents who trusted me years after years and with whom I am in contact on a daily basis. Especially the "passive" ones who are not actively looking for a new job today, but who still could be interested to hear about your vacancy if Ijuridische, fiscaliste, fisca present it to them myself.
Because they trust I only present them the right opportunities fitting their profile & expectations, and adding value to their career. Since I know and follow them for so many years now !
What's in it for you ?
10 reasons why you should trust me to be your recruitment partner.
You focus on your business
And I focus on mine. Getting in upfront contact with the best Tax & Legal Talents of the market all day long is a specific job you are probably not at ease with.
All you will have to care about is to decide who you want to welcome in your team among the selection that I provide to you.
You get advice
To be sure the assignment is realistic and you can attract the right Talents. Enjoy professional advice from a specialist who knows about current market trends, salary benchmark, expectations of the Tax & Legal Talents in general, their drivers and how to attract and retain them on the long term.
And grow & level up your team, properly.
You save time
By outsourcing your Tax & Legal vacancies to a specialised Partner who already knows the suitable Talents, you don't lose months passively waiting for them to apply... maybe one day, and it will speed up the recruitment process.
No CV shoot, only the perfect profiles are selected, the ones who will make the difference.
You manage costs
Fee structure is fixed upfront, in a very transparent way. No surprise at the end depending on the profile of the selected Candidate. No extra administrative or publication costs neither. Just an added value to your recruitment.
You benefit from large exposure
Benefit from huge visibility. Each post on my LinkedIn Profile & Page can be viewed by a network of more than 20.000 Tax & Legal Professionals who 'follow' me.
Up to now, no job board or recruiter can pretend to get the same impact.
You reach the passive Candidates too
More than 95% of the Talents are not actively looking for a new job today, meaning they don't spend time to react to your job postings. Direct search means I will do a market mapping, identify the best ones and proactively contact them. I probably already know them, by the way.
You benefit from unlimited direct search
While searching for the right Candidate, my network of more than 20.000 contacts on LinkedIn allows me to contact up to their 3rd connections, meaning a lot. And especially a lot more than other recruiters whose network are way smaller and who therefore can not reach the same amount of search results to present them your vacancy. And I don't stop searching until I find the perfect match, of course.
You avoid off limits
In comparaison to the other recruitment firms, being a smaller and independent actor allows me to present you all the suitable Candidates of the market, without being limited in my selection.
Here, you take no risk to lose the perfect match just because of possible conflicts of interest with too many clients.
You work Intuitu Personae

You work with one of the most experienced Tax & Legal Recruiter on the market.
Not with some less experienced Consultant having de facto a limited network.
You don't risk SPOC changing within a bigger company because of the big turnover it exists in the recruitment world. You work with me, only. In French, Dutch or English.
You build long lasting relationships

Because our recruitment experience will be way beyond the pure matching between your requirements & the Candidate skills. Cultural fit, personality, ambition and drive for now and later are taken into account, in order to be sure the match will last in a win win collaboration. Not a one shot.
Previous
Next
Let me present you the most suitable Candidates to permanently expand your team, or to reinforce it with a "plug & play" expert Interim Manager.
Find out for yourself, contact me asap. I would be pleased to hear more about your particular need for a Tax or Legal Talent, or to give you more information about the way I work to find THE perfect Candidate, in Dutch, English or French !
Please note that I am also offering "pro bono" services. Should you be a start-up, a new Law Firm, a NGO or any organisation with a societal or environment impact, your lack of financial means shouldn't be an obstacle to hire the best Talents in your team.
Let's discuss it together, in total discretion, of course !
Legal jobs, legal recruitment, tax & legal jobs, tax recruitment, legal counsel, lawyer, paralegal, general counsel, legal director, tax director, tax lawyer, partner, law firm, juriste, juridische, fiscaliste, fiscaal, head of legal, head of tax, tax jobs, legal job, headhunter, compliance, recht, law, tax